Full Memorisation of the Holy Quran
In this course, you will be provided with a program based on which you have to memorise and review a certain numbers of verses and after sufficient practice, go to the quizzes (An online session will be held by our memorisation experts per week in order to be in direct contact with you and providing necessary supports for you).
A prerequisite lesson is offered on the website to help the learners memorise the Holy Quran. It includes How to Memorise, Memorisation of Long Verses, Time Management, etc.,
Our memorisation experts have specified about five lines of the version of the Holy Quran which is written by Othman Taha to be memorised in each lesson,
Our experts will specify the amount and limit of your memorisation process,
Education is offered by teachers from different countries,
Memorisation happens according to a timetable,
Correction of pronunciation and usage of Tajweed rules in student recitation,
Each page of the Holy Quran, its translation and exercises are available on the website,
Checking memorisation and revision of previous pages happen in every session,
Continuous support and profound responsiveness are given by website experts during the learning time, from registration to receiving the degree.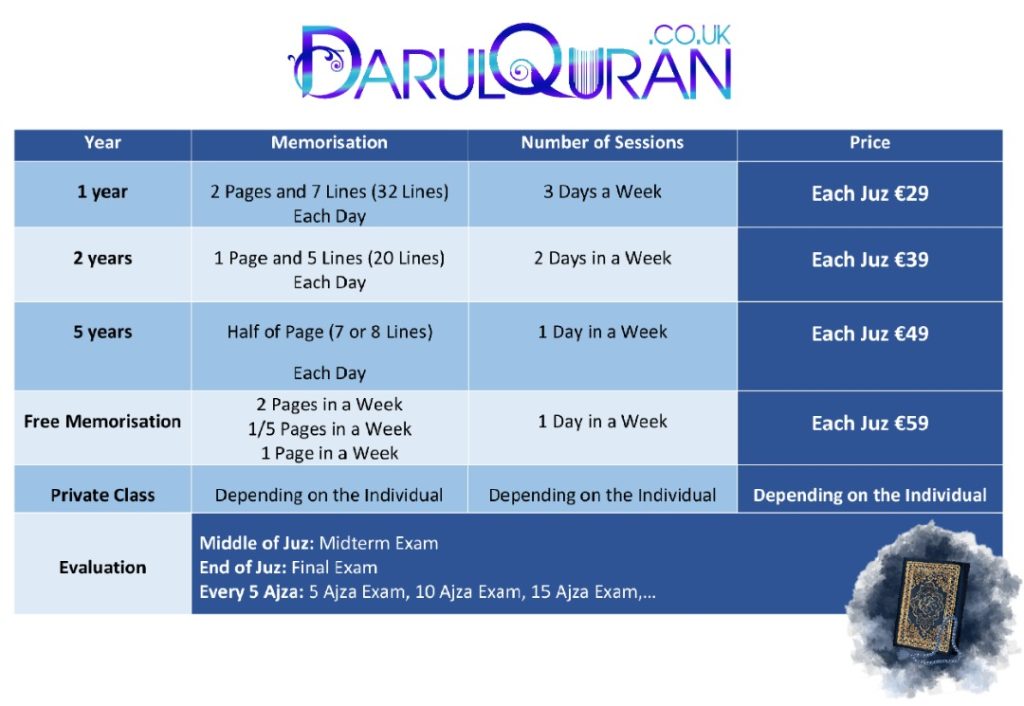 Learning the best methods of memorisation of the Holy Quran,
Following a schedule for memorisation,
Taking several steps to memorise the Quran efficiently.
The Noble Quran intercedes for the believers and the one who acts on the Quran will have the station of intercession on the day of judgment.
The following narrations from the Holy Prophet of Allah (s) indicate the importance of Quran memorisation:
Whoever to whatever extent reads the Quran till it becomes memorized will be entered into paradise and his intercession for 10 people from his family upon whom the fire of hell has become obligatory, will be accepted.
The Prophet of Allah (s): When the companion of the Quran enters paradise, they will say read and go higher, so there is no rank higher than the rank of the one who memorises the Quran.
"When the carrier of the Quran dies, Allah reveals to the earth to not eat his flesh. The earth says: Oh my God, how do I eat his flesh when your words are in his heart."
Quran Reading, Tajweed in Quran Recitation
Will be able to memorise each Juz in one term,
Will review the previous Ajza,
Will be given a certificate of completion.
Recitation of Ayahs by heart in every session,
Multiple choice quizzes at the end of each lesson, (including the current lesson and the previous lessons as well),
Midterm exam after half of Juz, including recitation by heart,
Final Exam after the memorisation of the whole Juz, including recitation by heart.
Full Memorisation of the Holy Quran
We hope these information are enough for your decision making. But if you need more details don't hesitate to contact us.
Also if you want, you can get the course now and start your new journey with Quran.